~Hello! welcome to the studio!...I live in the mountains of Southwest Virginia~the nature around me, as well as Life experiences and travels, gives me inspirations, imaginations, and designs that are expressed in the studio! Much of my art expresses ideas related to life and the human experience, such as human diversity or hope, while others are a celebration of color, form, and texture!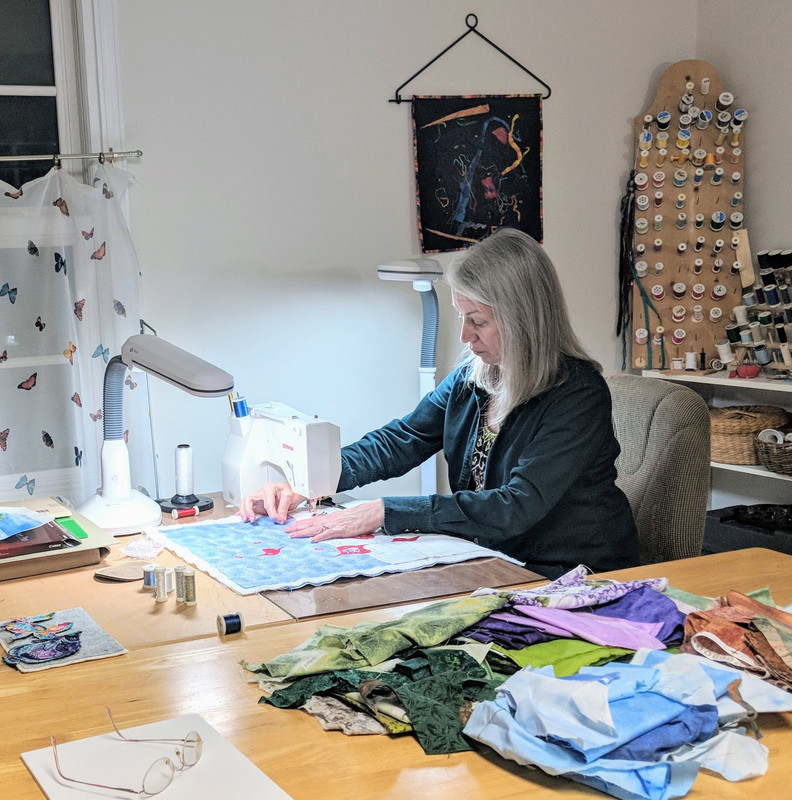 ~Textiles (fabrics and threads) are my "paints", and scissors and sewing machines are the main tools I use to create my art. I explore ways to get the desired effect~so different techniques, such as thread sketching & painting, applique, free-motion quilting, piecing, and collage, may be used. Other details may be added with beading, twisting fabric, painting, or other inventive methods.
~I create Contemporary Textile Art because I'm drawn to the color and feel, or "hand", of the fabrics. The finished Art Quilts are very textural and have lots of depth due to the layering of cloth and stitching. You can learn more about the stories behind my works of art, and see the processes that were used to create them Here!~ www.jonibeach/blog
~I individually print each open edition, archival Art Print in the studio on a Canon Pro 10 printer with beautiful, vibrant pigment inks on high quality, professional, acid free papers for long-lasting images. Each print is Signed with Title, Artist's Name and Date of Print. For matted prints, I use acid-free, archival quality matboard and foamboard backings.
~~~~~~~~~~~~~~~~~~~~~~~~~~~

If you have further questions regarding a purchase, please "Contact" me...(see link above.)
***Thank-you for your interest and visit to the Studio's Shop!***
*We Now Ship Art Prints & Original Art Quilts Internationally!!*** See Details and Shipping Rates under our "Purchasing" page.
~~~~~~~~~~~~~~~~~~~~~~~~~~~~~
**Be among the 1st to see glimpses of New Art, my Inspirations, and in every NewsNotes receive one Creativity IDEA to try, for adding more creativity to your life!
~ Sign-Up here to receive my e-newsletter, "From the Studio" NewsNotes, delivered regularly to you by email!
You will also receive a "freebie" as a Thank-You from Me, entitled~~"10 Somethings to Try", Adding More Creativity to Life!